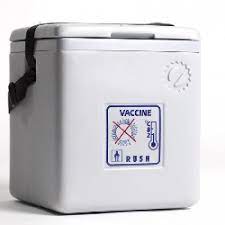 The extension of global requirements and advancement in packaging technologies give new meaning to the term "validated packaging". It is no longer just about packaging. Validation of thermally insulated containers extends beyond traditional testing of materials, components and systems for suitability, it includes the understanding of the product itself, logistics, personnel training, and monitoring of the entire system. It is necessary to understand that this is a complex and time-consuming process. Having a thorough and well-documented transport validation is the key to having confidence in the performance of your packaging and crucial to surviving audits and inspections of different levels.
Validation of thermally insulated containers is the process of providing documented evidence that storage conditions for products transported in the insulated shipping containers are met throughout the entire transportation period.
It is now a common practice to maintain the temperature range between +2°C to +8°C during storage and transportation of thermolabile medicines.
The pressure to register a product quickly and enter the market with a new product within a short time often leads to the fact that long-term stability studies, which may prove that the product is more stable at a broader range of temperature than anticipated, are not conducted. While the time of product release to the market is more critical, such practice can complicate the work of those responsible for storing and shipping medicinal products.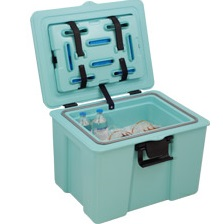 In many cases, when certain temperature excursions beyond the range specified on the labeling are acceptable, companies achieve significant cost savings in logistics, storage, thermally insulated shipping containers and transportation. Data confirming that temporary temperature excursions outside the specified range do not compromise product quality may also provide opportunities for many more packaging and shipping options. A simple formula can be given as an example: if extend the range from 0°C to +10°C, instead of the commonly accepted range of +2°C to +8°C, then the storage temperature range will be increased by 66%.
The volume and thermal capacity of the product (liquid, solid, lyophilized cake, or powder) also affect the design of the package. The quantity of the units and the composition of the secondary packaging, configuration of shipping packaging - all this affects the rate of heat absorption and heat reception. Do not forget about other environmental effects, such as vibration, shock, compression, atmospheric pressure, light, humidity, and fragility.
Define

c

ustomer

r

equirements
Who is your customer? This will help determine specific requirements, as they often differ for internal customers, distributors, retailers, or end-users. Image and presentation, brand identity and company reputation - all this may or may not be important for buyers. What is the expected product condition upon receipt? Will a package that arrives dirty, worn, and plastered with labels negatively affect your product? Perception is reality. You also need to be well informed about the customer's delivery expectations, costs and handling procedures such as weight, size of the package, and storage space. Estimate the total cost of the purchase, not just the packaging. For active and expensive insulated containers, it is necessary to consider whether to implement a closed-loop system, without affecting the customer. Also, remember about any disposability issues, and how sensitive your customer is to the issues related to the recycling of packaging materials and environmental recycling programs.
Understand

d

istribution

e

nvironment
The biggest variable when transporting thermolabile pharmaceutical products is the environment through which the products are transported. This includes modes of transport, loading/unloading places, time, packing/unpacking processes, differences in loading and unloading operations of your partners, seasonal temperature fluctuations, atmospheric precipitation and customs clearance delays, etc.
It is necessary to identify critical control points of the process (validation of thermally insulated containers and cold chain validation). As a rule, these are the areas of the greatest risks where the touch-points, downtime, or cargo transfer occur. During transportation, products are the most vulnerable when they are immovable (located in a temporary storage warehouse, during loading/unloading operations, etc.), and numerous studies show that the cargo is about 60% of delivery and distribution time under such conditions.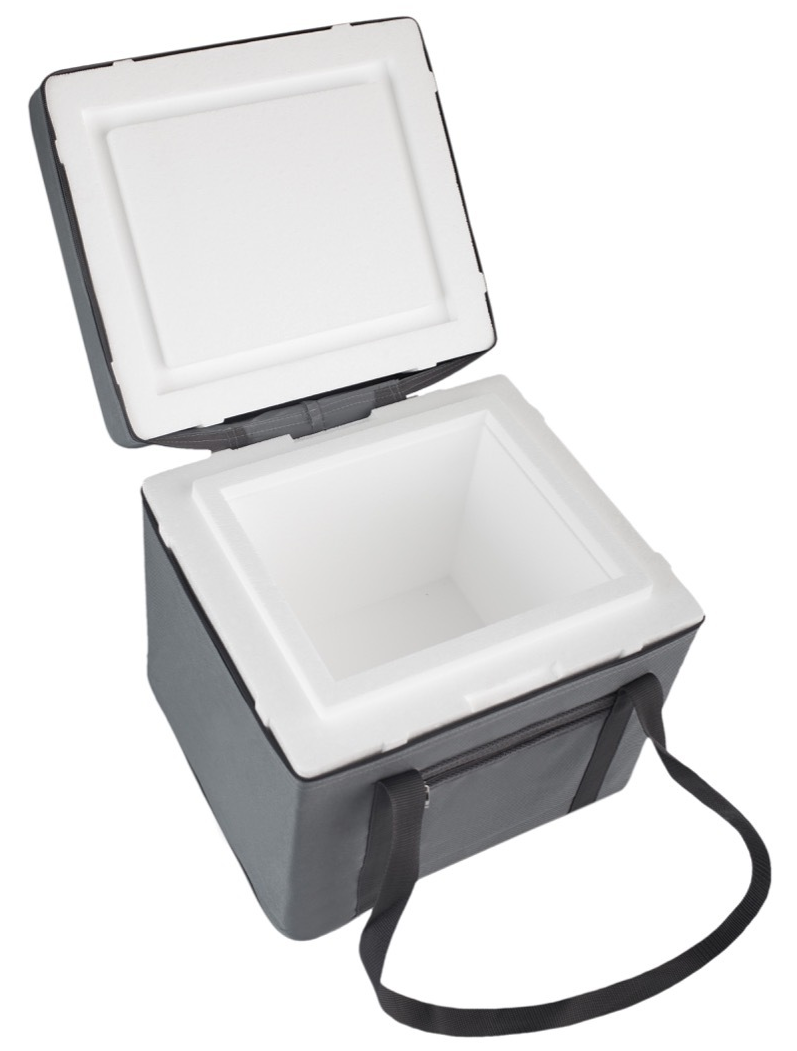 The quality management system of a distributor of pharmaceuticals and thermolabile products should include the evaluation of transportation providers. It is necessary to constantly monitor your distribution environment, and in some cases individual shipments, for changes that may pose a risk to your product. Dispatching temperature data loggers and, if necessary, humidity data loggers along with your cargo, which will accompany the cargo during the entire journey, is an excellent way to monitor the transport system for changes that can help you identify trends and potential threats in advance.
Active or passive thermal packaging?
It is more than just personal preferences like paper or plastic. It is a fundamental question leading to two different logistics paths and cost structures.
There is no single, universal solution that can be applied in all circumstances. Both systems have their risks, benefits, and drawbacks. Active systems have extensively changed over the past decade; several companies produce new and significantly improved products, improving their quality control to compete in the market. In general, active systems can be a practical solution for large volume cargoes to be shipped via international air transport. However, there may be difficulties in returning insulated shipping containers.
Passive systems also have their unique advantages. They can be shipped practically anywhere in the world within a defined period, using phase change materials as a refrigerant. There are many materials to choose from, which differ in reliability, durability, and cost. They can be used in countless configurations at relatively low cost and can be shipped across the city or the world.
Refrigerated trucks for short-distance transportation could be an effective alternative. Refrigerated ocean containers are often considered an option, and most companies are ready to choose in their favor, despite long delivery times and the fact that containers with expensive drugs spend days or weeks on the open sea.
Between active and passive systems, there is a hybrid packaging system, which uses rapid evaporation technology, Peltier elements, thermally activated switches to regulate temperatures within containers and other novel concepts. This category occupies its niche and may be a practical solution for a specific application, for example, when it comes to small packages and low-volume cargoes.
Know Suppliers' Capabilities
Not all suppliers are the same, and not everyone can meet special requirements and expectations of the pharmaceutical market nor understand and appreciate regulatory provisions. Take into consideration your suppliers' industry reputation, their quality of customer service, their location in proximity to your own, quality management practices, and, if necessary, local and global supplies. Develop and maintain close relationships with your suppliers.
It will cost you more and take longer than you expect. It might take more time than you have. Do not panic. You can take appropriate measures to ensure safe transportation of your medicinal products while developing, executing and implementing a long-term strategy to perform validation of thermally insulated containers and transport validation. Besides, any experienced supplier specializing in packaging or related services will be ready to help you navigate through this process. Consider this a continuous path toward improvement. Although expect that it will cost more at the initial stage, but will bring dividends in the long run. The main thing is to do everything right and clearly document everything that you do.
Be ready to make tough decisions. Validation of thermally insulated containers is seldom without compromises. Your primary goals are more likely to change over the course of the project. Cost is always the most persuasive argument. Define the levels of risk you are willing to take and the levels of confidence you are willing to accept. After that, you will be able to understand well enough, what falls within this category.
Validation of insulated containers

.

Testing
A one-off approach to the qualification of packaging systems will never stand up in an audit. Initiation of Design Qualification / Installation Qualification / Operational Qualification / Performance Qualification (DQ/IQ/OQ/PQ) for verifying packaging and processes is considered best practice in the industry in the vast majority of cases. The process is "system neutral". In other words, it equally applies to active, passive, and hybrid packaging systems. It first requires documenting critical parameters of the product, packaging and transport systems - everything that we have already discussed up to this point, including duration, routes and methods of transportation, product stability, packaging material, minimum and maximum thermal loads, thermal mass, expected ambient temperature profiles, limitations, market and user requirements. Based on this, it is possible to present documented evidence in the specification of the component that all components in the packaging system are capable of performing within the established limits and tolerances.
The Design Qualification is performed prior to the Operational Qualification and ensures that functional specifications are met. It is during the design process that you can easily get stuck. Consider the following scenario: the requirements apply to three sizes of containers (for instance, small, medium, and large), each containing minimum and maximum heat load, two different temperature profiles (hot and cold). This will require 36 separate tests, not including re-design.
The Performance Qualification or "real world test" is performed after successful completion of the OQ to demonstrate that the process is accurate, effective and reproducible. It should include actual ambient temperature variations (such as seasonality), typical heat load configurations, a sufficient number of shipments to ensure repeatability, temperature calibration of control devices and, if necessary, other environmental data collection devices.
Validation of insulated containers

.

Implementation
According to the current regulatory expectations and as part of the Quality Management program, transfer the process that has been validated to routine operations formally by means of clearly defined and approved standard operating procedures. Personnel training should be conducted before the implementation of the process and according to the procedures documented to perform the Performance Qualification (PQ). All training must be documented. Feedback from suppliers and intermediaries can be crucial to the successful implementation. All changes in the routes, modes, or methods of the carrier, must be communicated to all parties involved in the process.
Check y

our

s

uppliers and

l

et

them k

now

y

our

e

xpectations
A formal and documented quality agreement is necessary to ensure that there is a common understanding of materials or service, quality specifications, responsibilities, guarantees, and communication mechanisms. They should include raw material traceability when applicable and ensure that processes are repeatable. Minimum criteria of production performance, operation, or other service attributes should also be indicated.
A quality agreement (sometimes referred to as a service agreement) generally includes purpose, objectives, target dates, duration of works, definitions, the scope of work and plan, reporting metrics, an audit program, change control, compensation, responsibilities and liabilities, training, warranties and remedies such as a CAPA program. Keep in mind that some suppliers of materials and services may not operate or be familiar with GMP standards.
Efforts should be made to align their standards to your own.
Monitor the

s

ystem for

t

rends and

c

hanges
Now after performing validation of insulated containers, you have successfully implemented a packaging system that ensures that your temperature-sensitive medicinal products arrive at their destination safely, undamaged and uncompromised. Periodic monitoring (according to your quality system) using calibrated data loggers is an excellent way to check trends and changes that might otherwise go unidentified. Significant changes in the process may require you to re-qualify the packaging system.
The work necessary to maintain the quality of the medicinal products you deliver is never over. Look for ways to improve the process, eliminate defects and avoid unnecessary risks to your products.
The efficiency of sales and marketing of products directly depends on the conditions of transportation.