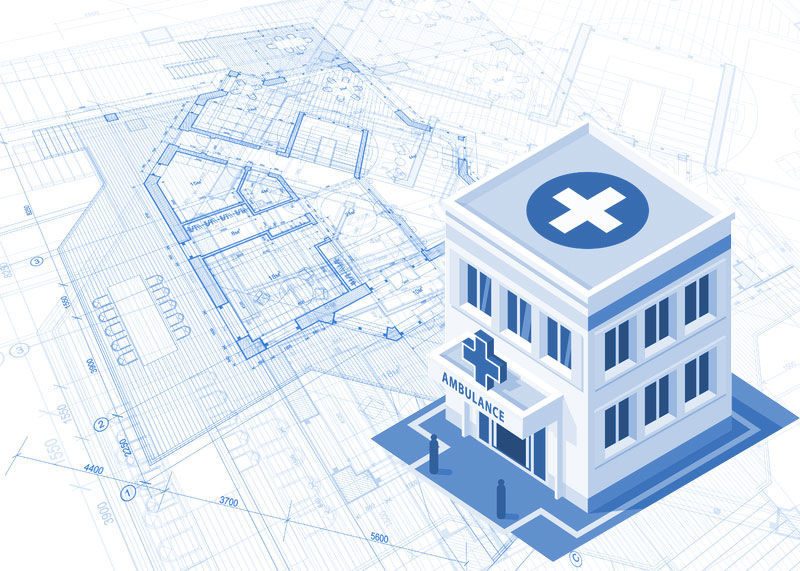 "A functional design can promote skill, economy, conveniences, and comforts; a non-functional design can impede activities of all types, detract from quality of care, and raise costs to intolerable levels" …. Hardy and Lammers
In terms of design, healthcare facilities are among the most complex objects. When designing hospitals, the location of diagnostic and treatment units, emergency rooms, clinical laboratories, surgical units, admission rooms, the separation of ambulatory care and inpatient care areas, comfort maintenance, food services, and household tasks should be taken into account. Many regulations address requirements for healthcare facilities, the proper interpretation of which requires professional knowledge and expertise.
This diversity of functions is presented in different regulations governing the construction and operation of hospitals. Every major and constantly changing function of a hospital, including complex electrical, mechanical, and telecommunications systems, demands specialized knowledge and experience. It is quite difficult to possess such extensive knowledge. That is why consultants have a significant role in designing and planning health care facilities. The functional department in the hospital can have competing needs and intercrossing priorities. Idealized scenarios and clearly defined individual preferences should be well balanced against obligatory requirements, actual functional needs (internal traffic and relationships with other departments), and the organization's financial position.
Healthcare facilities must serve and support a large number of employees and the parties involved, along with the full service range that should be provided. In an ideal scenario, the design process involves direct contribution from the owner and key hospital personnel at the initial stage of the process. Besides, the designer should ensure the safety of patients, auxiliary personnel, visitors, volunteers, and suppliers who are not usually directly involved in the design. Proper healthcare facility design incorporates functional requirements with the human needs of different users.
In the ideal case, healthcare facilities involve functions related to:
inpatient care

;

outpatient care

;

diagnostic and treatment;

administrati

on

;

service

s

(food

and

supply);

research and teaching.
The future configuration of a healthcare facility is defined by physical relationships between these functions. The established relationships demonstrate the flow and communication of people, materials, and waste. Therefore, the physical configuration of a hospital, its transport and logistics systems are inextricably linked. The transportation systems are under the influence of the building configuration, and the configuration largely depends on transportation systems. Site limitations and opportunities, surrounding environment, climate, budget, and available technologies also have an impact on the hospital`s configuration. New medical needs and new technologies create new alternatives.
In a large healthcare facility, the form of a typical treatment unit is a major component of the general configuration since it may be repeated many times. Nowadays, the form and size of treatment units have a tendency towards minimization. To decrease the distance between the patient's bed and the nurse station compact rectangles, modified triangles, or even circles are used. The selected decision significantly depends on program issues such as the organization of the nursing program, the number of beds in a treatment unit, and the number of beds in a patient's room (a tendency, which has been recently intensified by HIPAA, extends to all private rooms).
All healthcare facilities must possess certain common characteristics, apart from their size, location, or budget.
Efficiency and Cost-Effectiveness
Healthcare facility efficient layout has to:
Improve personnel efficiency by

reducing

the distance required for its movement between

commonly

used premises

to a minimum

;

Allow easy visual

monitoring

of patients by limited

number of personnel

;

Embrace

all

essential

premises

, but no

t

redundant

premises

, which

require

thorough

pre

liminary

design p

lanning;

Provide

an efficient logistics system

that

may

include elevators, box

-type

conveyors,

pneumatic tubes,

gravity or pneumatic chutes,

manual or automated

wagons

to ensure

efficient handling of food and clean

materials

,

as well as

disposal

of waste, recyclable

materials

, and

contaminated

material

s;

E

fficient

ly

use space by locating

support

spaces

to be shared

by

adjacent functional areas,

as well as

by

rational

use of multi-purpose spaces

;

Consolidate outpatient functions for more efficient operation

. Fo

r instance

,

o

n

the

first floor,

where

possible

,

for direct outpatient

access

;

Group or

unify

functional areas with similar system requirements

;

Ensure

optimal functional adjacencies

. F

or example,

locat

e

the surgical intensive care unit

near

the operating suite. These adjacencies

must be found

on a detailed functional

program

describing

the

hospital's intended operations

from the

perspectives of

patients,

personnel

, and expendable materials

.
Flexibility and Expandability
As
medical needs and m
ethods
of treatment will continue to
evolve
, hospitals
must
:
Meet

modular concepts of space planning and layout

;

Use

, as much as possible,

general

room sizes and plans

;

Be served by modular, easily modified

,

and easily accessed

mechanical and electrical systems

;

B

e des

igned

on

a modular system

, where size and program allow

.

Also, s

uch

system

s

use walk-through space between floors for

utilit

y

distribution.

This provides constant adaptation to changing programs and needs for

large-scale projects, without increasing the cost, if properly planned, designed, and bid.

Such construction

s

ystem

s

also allow vertical expansion without disruptions to

the

floors below

;

Be open

to

future expansion; for

example

,

the

positioning

of

administrative departments,

next to

clinical laboratories.
Patients often feel scared and confused and these feelings may hinder their recovery. Every effort should be exerted to make your stay at the hospital safe, comfortable, and stress-free. Interior design is an essential component in establishing and maintaining a proper therapeutic environment. A hospital's interior design must be centered on a deep understanding of the facility's tasks and objectives, and its patient profile. Patient profile characteristics will define the degree to which the interior design should consider different physical and mental disabilities, such as loss of visual acuity, aging, rudeness, and abusiveness. Some significant aspects relating to therapeutic interior creation are given below:
Using familiar and culturally relevant materials whe

n

ever

this complies with

sanitation

needs

and other functional needs;

Using

bright

and

different

color and texture

schemes

. However,

it should be taken into

consideration

that

some colors are inappropriate

. T

hey

may

interfere with pal

eness

and skin tone

assessments

,

or

disorient older or impaired patients, or agitate patients,

especially

some psychiatric patients;

Where

possible

, u

sing

natural light and lighting in interior

areas that

closely

resembles

natural daylight;

Providing

exterior

views from every patient bed, and where possible;

wall

murals of nature scenes are

useful

where outdoor views are not available;

Developing

a navigation process

within buildings

for each project

. Patients, visitors, and

personnel

need to know what their destination is,

where they are,

and how to get there and return.

The sense of competence in patients

is en

hanced

by making spaces easy to find, identify, and use without asking for help. Building elements, texture,

color,

a

nd pattern should give c

l

ues

.
Cleanliness and Sanitation
Health care facilities should be easy to clean and maintain. It is ensured by:
Appropriate

and

durable finishes for each functional space

;

Thorough

detailing of such

elements

as casework,

doorframes,

and finish transitions to avoid

dirty and

hard-to-clean cr

acks

and joints

;

Adequate and

properly

located

service facilities

;

Speci

fic

materials, finishes, and details for

premises,

which

should be

sterile

.
All areas, inside and outside, have to:
M

eet

the

minimum requirements of the

legal provisions relating to

persons with disabilities;

In addition to

the abovementioned requirements

,

be designed

to be easy to use by

other

patients with temporary or permanent handicaps

;

Ensur

e that

grades are flat enough to allow

their

easy movement

; a

nd corridors

and sidewalks

are wide

to allow

two wheelchairs to pass easily

;

Ensure th

e

entrance areas allow

accommodat

ing

patients with slower adaptation rates to

light and

dark; glass walls and doors

are marked

to

make them visible

.
A health care facility is a complex system of intertwined functions that requires the constant movement of people and materials. The vast majority of this circulation must be controlled.
Outpatients visiting diagnostic and treatment areas should not

walk

through inpatient functional areas nor

come into contact with

severely ill patients;

Main

outpatient routes must

be

easy

and clearly

established

;

Visitors should have a simple and direct route to each patient nursing unit without

entering

other functional areas;

Separation of patients and visitors from logistical

/ industrial

zones

or floors;

Disposal

of

waste

, recyclable materials

,

and

contaminated

materials

has to

be separated from

the

movement of food and clean

material

s

, and both should be separated from patients and

visitors

routes

;

Trans

port

of cadavers to and from the morgue

has to

be out of the sight of patients and visitors;

Special service elevators for deliveries, food

,

and building maintenance services.
Aesthetics is closely connected with creating a therapeutic environment (homelike and attractive). It is essential for improving the image of the hospital and serves as a valuable marketing tool. Environmental improvement also contributes to better personnel morale and patient care. Aesthetic considerations include:
Ample

use of natural light, natural materials,

and

textures

;

Use of artwork

;

Attention to proporti

ons,

scale, color,

and detail

s

;

The Validation Center company provides services for the design of medical institutions with the development of all necessary documentation.