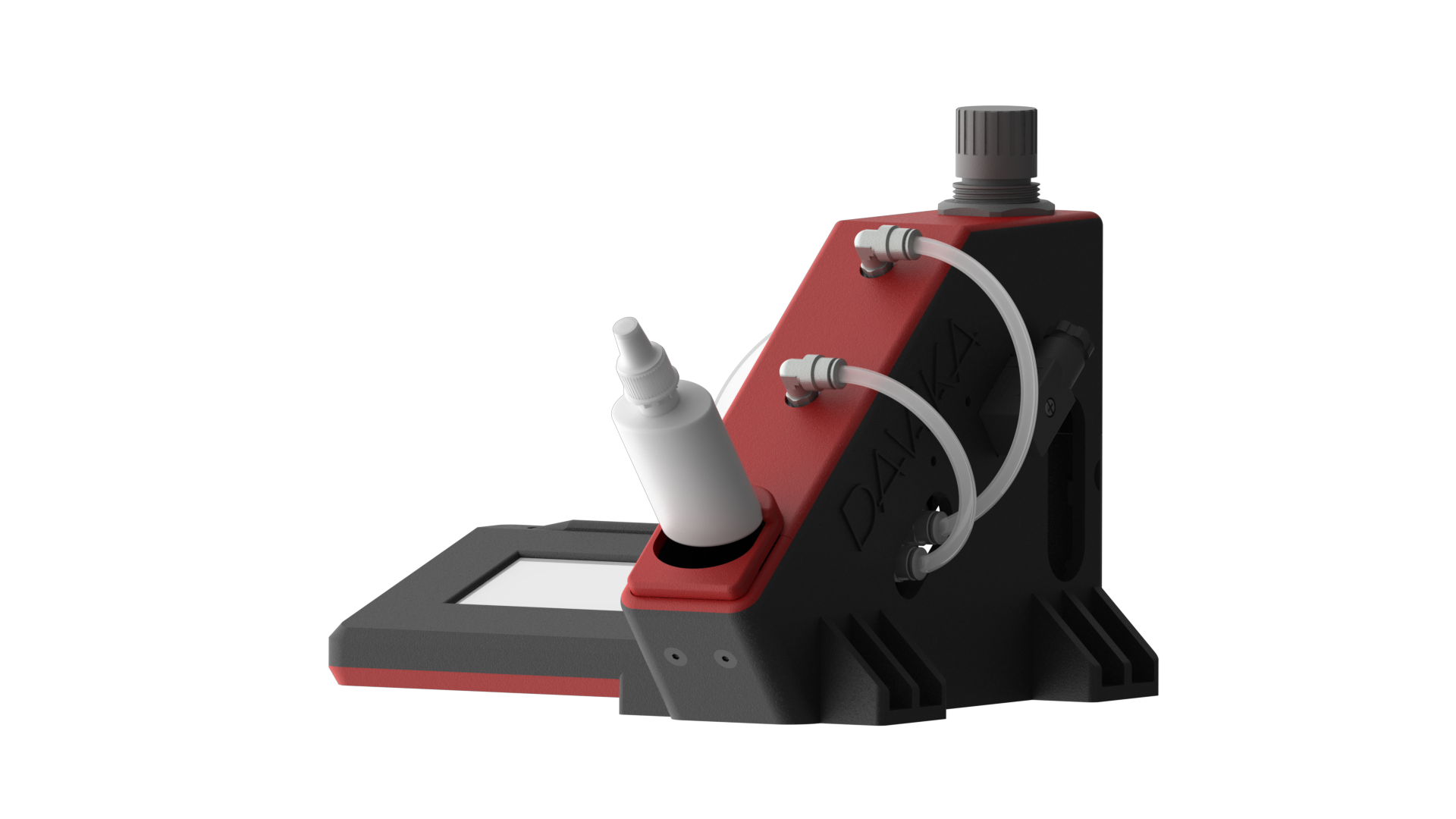 THE NASAL SPRAY TEST SYSTEM
The Nasal Spray Test System (NSTS) is a device designed to standardize the process of pressing down the container during quality control of primary packaging (containers/bottles and components) and finished products (determination of the dose mass and the number of doses per container), and development of medicinal products in the form of nasal sprays.
When performing quality control of nasal sprays actuated by pressing the container, it is necessary to ensure standardized, reproducible, justified, and most closely similar to hand actuation of a container. Only such actuation will allow to control the amount of drug substance released in one actuation of the container and the number of doses delivered per container.
Primary packaging quality control
Visual control and certificates from the manufacturer do not give a complete picture of the primary packaging quality of nasal sprays. Such parameters as stiffness of the container (plastic density), diameter and inner form of the capillary tube, nozzle diameter, nozzle and capillary tube coaxiality after assembly, roughness of internal surfaces, plastic injection molding defects are hard to detect visually however can subsequently have a critical impact on drug dosage. In this case, it is reasonable to use a primary packaging quality control method, which demonstrates whether this package ensures the required dosage. In other words, assemble primary packaging, fill it with a solution and determine the dose mass and number of doses per container, using a standardized pressing.
Finished product quality control
Quality control of a medicinal product should be performed before releasing the product in the market, according to the requirements of GMP, FDA, Pharmacopeias, and other regulatory documents. Quality control of nasal sprays involves the dose release for their subsequent calculation and performing physical and chemical analysis. The way of pressing the container will also be critical and affect the results of quality control. The actuation of the container by a human will not give typical or reproducible results. This type of actuation cannot be measured or characterized. Only a device capable of simulating the standardized actuation of the container will help obtain correct and reproducible QC results.
Product parameters and parameters of the subsequent manufacturing process and quality control are established during the drug development process. In this event, the device capable of mimicking the standardized actuation of the container makes it possible to define the amount of drug delivered to the patient after actuating the container, the number of actuations to ensure the therapeutic dose, and the number of doses per container. All these parameters form the basis for the subsequent manufacturing process, and the device will help demonstrate that the applied technology is capable of reproducing all the parameters established at the development stage.
For more detailed information about NSTS, please contact our specialists!
Stationary system designed to automate and standardize nasal spray container pressing